Solar Water Pumping System
A solar water pump has a mini powerhouse at its heart and consists of a calibrated and matching solar array of modules – tuned with the equivalent power of pump for that particular application. The solar water pumping system is capable of running all types of electrical water pumps with applications varying from irrigation to household demands. Irrigation pumps such as submersible, surface or deep well can also be coupled with drip irrigation systems to enhance the returns from this configuration.
A typical solar water pumping system is known by the sum total of solar array size that is required to run the attached pump. A 1000 Wp solar water pump is capable of drawing and pumping approximately 40,000 litres of water per day from a source that is up to 10 meters deep. This is sufficient to irrigate about 2 acres of land with regular crops. A 1000 Wp solar water pump helps save up to Rs 45,000 when compared to the equivalent use of a diesel-operated pump over a year.
Features:
Rugged construction
Simple installation and maintenance
Highly reliable
No conventional grid electricity required
Long operating life
Highly reliable and durable
Easy to operate and maintain
Eco-friendly
Saving of conventional fuels
Solar Photovoltaic Panels
DC mono-block pump
Stand and Accessories
No inverter – D.C. motor connects directly to the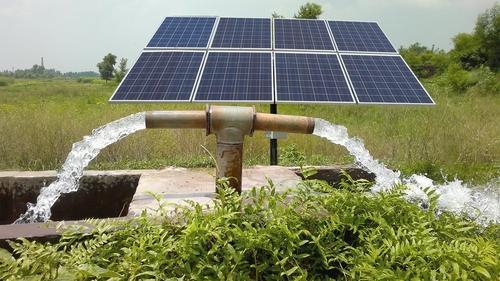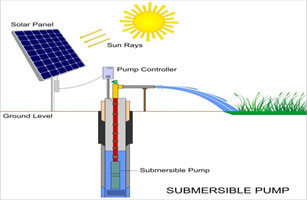 Submersible Pump
The power generated by Solar Panels is used for operating Solar Submersible pump for lifting water from open well, water reservoir or tube well for irrigation and drinking water purpose. The system requires a shadow-free area for installation of the Solar Panels.
Features:
Rugged construction
Simple installation and maintenance
Highly reliable
No conventional grid electricity required
Long operating life
Highly reliable and durable
Easy to operate and maintain
Eco-friendly
Solar Photovoltaic Panels
Stand & Accessories
Solar submersible pump
No inverter – D.C. motor connects directly to the solar array
No fuel cost- uses abundantly available free solar energy